Chainsaw Safety
Also see: Handling & Hauling Wood »
Use the right size and easy-to-handle chainsaw for the job. A review of eight models can help decide which chainsaw to buy. Consider doing some research on-line: Small Chainsaw Review - Your First Purchase

Read the owner's manual. It explains many important details, such as proper starting and mixing oil with the gas.
Don't operate a chainsaw when you are tired, if you have been drinking alcoholic beverages or are taking prescription drugs that are known to make a person drowsy.
Always wear safety gear. Use hearing protection, eye protection, head protection, steel toe shoes as well as chainsaw chaps and gloves. These devises can prevent serious bodily injury and hearing loss.
Maintain a properly sharpened chain. A dull chain can cause kickback and extra strain on yourself and the chainsaw.
Your chainsaw should be equipped with safety items:
A chain brake to prevent injury from kickback.
An interlock throttle to prevent accidental throttle activation.
A chaincatcher and rear hand protector in case the chain breaks.
An anti-vibration system.
A safety chain (low-kick chain) to protect from kickback. Buy only UL certified chains.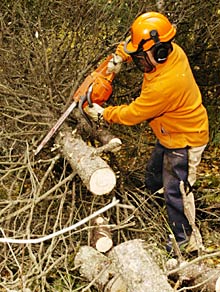 Pay attention in the woods. Look up, look down and look around. Fallen trees can trip you up and leaning trees can fall on you.
Always operate a chainsaw below shoulder height. It is too heavy to keep stable overhead.
Be alert in dry conditions. Poor maintenance, faulty exhaust systems and spilled fuel can spark fires.
Chainsaws are designed to run at full speed. Depress the throttle completely while cutting to reduce fatigue and maximize productivity.
Avoid kickback, it is the leading cause of chainsaw injury and death:
Don't cut with the tip of the chainsaw.
Stand at an angle to the saw so that if it does kickback the saw will miss your head and neck.
Use both hands on the saw. Keep the arm holding the chainsaw stiff at the elbow to reduce operator fatigue and to maintain control of the chainsaw.
Remove nails and screws from old building logs.
Use extreme caution when cutting small-size brush and saplings. The material can catch the cutting chain and be whipped toward you or pull you off balance.
Have a planned escape route in the case your tree does not fall where you intended.
Keep other people out of your cutting area. Tell them when it is safe to enter if they are going to help.
A number of Internet sites feature a wealth of information on chainsaws and chainsaw safety. Click on these links to learn more:
Reference:
American Red Cross, "Fact Sheet: Using a chain saw safely," American Red Cross, www.redcross.org/pubs/dspubs/chainsaw.pdf.
Jill Webster Ph.D., "Chainsaw Safety," Utah State University Extension, http://extension.usu.edu/files/agpubs/ahs04.pdf.
Dr. Glen H. Hetzel, J. Butler, "Safety With Chainsaws," Virginia Cooperative Extension,
www.cdc.gov/nasd/docs/d001201-d001300/d001289/d001289.html.
Oregon Cutting Systems Group, Blount, Inc, "GENERAL SAFETY PRECAUTIONS FOR USE OF CHAINSAWS," Oregon Cutting Systems Group, Blount, Inc. www.oregonchain.com/precautions.htm.

Learn more about
Also see: